West Side Tavern is a true neighborhood gastropub that offers a unique ambiance, exciting seasonal menus, and an impressive array of crafted cocktails, whiskeys, fine wines, and beers. West Side serves up these culinary delights and crafted cocktails in a 1915 renovated grocery store in the heart of Old Town, Longmont, Colorado. 
Quality product & friendly service
We utilize the finest ingredients for our libations and provisions. But ultimately, your experience is what is most important to us. Our staff is friendly, knowledgeable, and some can even tell a good joke or two.
Our illustrious owner, Westley Isbutt, is a developer, commercial photographer, and lover of fine whiskeys. His partner and spouse, Debra Heiser, is a brand designer and lover of all things tennis. The pair moved to Longmont from fabulous Las Vegas, NV and once adapted to the streets rolling up at 8 pm, decided to open the West Side Tavern, where the welcome rug only rolls up at 9 pm on weekdays and 10 pm weekends.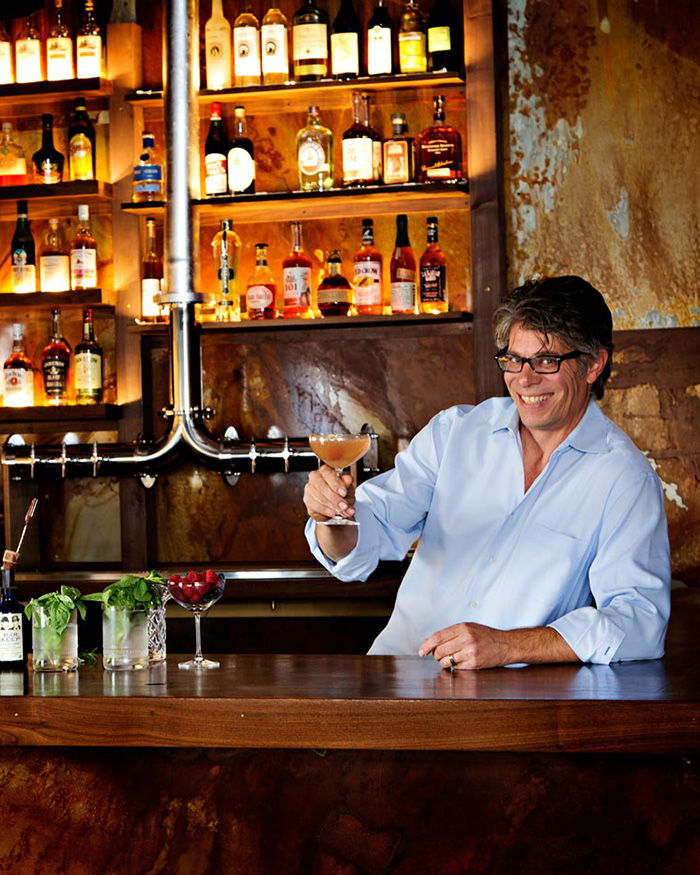 vodka, Grove Street Chai Liqueur, Irish cream, coffee liqueur
Buffalo Trace bourbon, chocolate and walnut bitters, demerara syrup
Sloe Gin, lemon, vanilla liqueur, thyme pepper syrup, cherry apple bitters
bourbon, Carpano Antica, Gran Classico, Crème de Banane, chocolate bitters
Ford's Gin, mint, Angostura Bitters, lime juice, demerara syrup
brandy and spices, served hot
tequila, Carpano Antica, orange bitters, rose-water rinse, burnt orange garnish
apple cider, tequila, mezcal, lemon juice, demerara, Green Chartreuse soaked burnt sage
Everything is made fresh daily, allowing us to offer nightly specials to keep it interesting, so ask your server.
GF: petite salad, pickled strawberries, toasted pistachios, strawberry chive vinaigrette, salty date crackers (almond flour)
GF: grilled and stuffed w/dungeness crab, pico de gallo, mojo vinaigrette, crispy tortilla chips, lime (Gluten-free w/o chips)
GF: pan-seared, pepperoncini vinaigrette, grana padano cheese *ADD a sunny-side-up egg $2
gochujang buffalo/smoked blue cheese sauce
English red cheddar, mushrooms, cavatappi, parmesan
argula, garlic cream, goat cheese, balsamic glaze
served with flatbread (Gluten-free subs rice crackers for crostini)
manchego, fontina, sharp cheddar, grana padano, served with tomato soup
3–cheese blend, sourdough bread, with side salad (add Caesar $2)
sweet basil, lemon, ginger, (3-cheese crostini - not Gluten-free)
OPTIONAL ADD-ONS: cold smoked trout* $8 | steak* $10 | fish of the day $10 | chicken $8
GF: arugula and parsley, creamy goat cheese dressing, candied pumpkin seeds, pomegranate molasses
white anchovies, brioche croutons, grana padano cheese (Gluten-free w/o brioche croutons)
mixed greens, cucumber, tomato, red onion, champagne vinaigrette dressing
GF: grilled 7 oz Angus medallions, smoked gorgonzola rosemary compound butter, shoestring fries
GF: crispy smashed potatos, charro beans, chipotle crème, chimichurri
butternut squash risotto, seasonal veggies, smoked black pepper sage cherry sauce
GF: porchetta seasoned, polenta cake, arrabiatta, seasonal veggies, pesto cream
wild rice, green bean and leak gratin, lemon butter, toasted almonds
mushrooms, pancetta, cipolinis, carrots, orzo, red wine, brandy demi glaze
wild mushrooms, roasted tomatoes, pecorino romano, crispy capers, artichoke hearts, ADD smoked trout* $8 | steak* $10 | fish of the day* $10 / chicken $8
Sunday Brunch 9 am – 1 pm
ham, manchego, fontina, sharp cheddar, house-made jam, egg batter brioche, potatoes au gratin, seasonal fruit
smoked salmon, cream cheese, cucumber, onion, tomato, capers, seasonal fruit
poached cage-free eggs; sauce of tomatoes, chili peppers, onions, cumin, paprika; caraway, potatoes au gratin, sourdough toast, house-made jam
English muffin, hollandaise, potatoes au gratin. Choice of • Ham • Salmon • Avocado, with tomato and goat cheese
2 eggs, potatoes au gratin, sourdough toast, house-made jam. Add applewood-smoked bacon* $4, add 8 oz ham steak* $6
onions, peppers, mushrooms, goat cheese ADD smoked trout* $6, add ham* $5, add bacon* $5
sourdough, garlic, black Hawaiian lava salt, seasonal fruit, ADD cage-free egg* $2
sourdough toast, house-made jam $3, applewood smoked bacon $5
award-winning bloody mary, mimosa $9 orange, grapefruit, cranberry, tomato juices $4 organic arts teas, coffee $4 / milk $3
* These items may be served raw and/or undercooked or contain raw or undercooked ingredients. Consuming raw or undercooked meats, poultry, seafood, shellfish or eggs may increase your risk of food-borne illness, especially if you have certain medical conditions. GF = Gluten-free / V = Vegetarian
We are classic old school – a lil' bit of Facebook, no Insta, (long story), and thus keep a few highlights here for your pleasurable perusal.